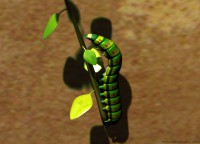 I'm still working on new objects for this project and, apart form the pocket watch I posted before, here I show you a caterpillar made with Blender, using UV mapping.
The image map for the UV mapping was made with Inkscape.
I suppose the next chapter of this project will be the final image, because almost everything is modelled and textured but I'm still working on lighting.